Bonnie Godiva
Real Name
Jasmine Latty
Origin
Yonkers, NY
Rap Group
Innuendo
Leagues
Queen of the Ring, KOTD, misc
Bonnie Godiva is one of the most active female battlers, starting on Queen of the Ring and accelerating to the top of the league's battlers. She moved from QOTR and, alongside Gattas, became the first female in KOTD. She's also battled on Snoop's Gladiator School event, RBE's Blood, Sweat, and Tiers, GTN, and Don't Flop, to name a few.
Known for her bar-heavy rounds, and her usually calm and aloof delivery and performance, Bonnie's often considered slept-on by viewers because she lacks the high energy or aggression of many of her opponents. Despite this, she's consistently ranked in top ten females lists, being cited as a complex and confident lyricist rather than performer. Perhaps in reaction to this, when she returned to QOTR in 2014 for NHB, her performance was extremely aggressive and confrontational against Ms. Fit, something previously unseen from her. It garnered negative feedback, with audiences saying it felt unnatural, despite the fact that she won the battle bar-for-bar.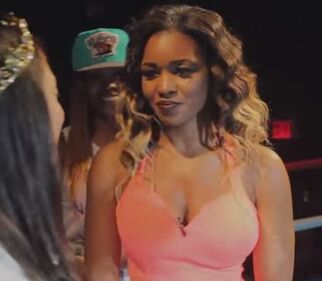 Bonnie and battle rapper Math Hoffa were romantically involved in the past, but since their split, Bonnie has taken on a very different perspective of engaging in relationships with fellow Battle Rappers.Looking to the future, Bonnie doesn't plan on becoming intimate with another man who shares her profession, and stated that she is turned off from entertainers in general. 
Despite being controversial, the sheer number of battles Bonnie's done is prolific, as is her presence in all of battle rap's "Top Five" leagues. She's also battled more male opponents than most of her peers. 
| Opponent | League/Event | Date |
| --- | --- | --- |
| K-Shine & DNA (with 40 B.A.R.R.S.) | Queen of the Ring/ No Holds Barred 2 | September 2015 |
| C3 | Queen of the Ring/Panic Room 3 | May 2015 |
| O'fficial | Ether | December 2014 |
| Enigma | Don't Flop | November 2014 |
| Melato Black | RBE/Blood, Sweat, & Tiers | November 2014 |
| Syahboy | Snoop's Gladiator School | September 2014 |
| Ms. Fit | QOTR/NHB | June 2014 |
| Uno Lavoz | KOTD | March 2014 |
| Shooney Da Rapper | Black Ice Cartel | March 2014 |
| Dutchess | KOTD | January 2014 |
| 40 B.A.R.R.S. | QOTR | October 2013 |
| Gattas | KOTD | September 2013 |
| Germ Free | KOTD | May 2013 |
| Killa | World Battle League | March 2013 |
| Lexx Banko | QOTR | March 2013 |
| Streamz | QOTR | October 2012 |
| Star Smilez | QOTR | August 2012 |
| Qua Star | QOTR | June 2012 |
| Mz. Hollywood | QOTR | March 2012 |
| Ill Bitz | QOTR | March 2012 |
| Jada Raye | QOTR | January 2012 |