C3
Real Name
Celeste ?
Origin
Queens, NY
Rap Group
Boss Bitches
Leagues
Queen of the Ring
Real Job
"...fuck outta here, with your punk ass!"
C3 is a Queen of the Ring battler, and one of the foremost "dykes" battling in the league. She's most known for her ferocious ability to free-style, as well as her complex lyrical game. However, despite being a universally acknowledged top-tier QOTR rapper, and repeatedly getting top-tier slots on their cards (battling the likes of O'fficial, Tori Doe, and Ms. Miami, etc.), it is worth noting that almost all of C3's battles - especially those against much-hyped competition - are debatable (perhaps barring her QOTR:#NHB battle with Tori, which Tori edged). She has yet to "bodybag" a top-tier opponent. Despite this, she certainly has demonstrated that she's a threat, and her pen game is still above and beyond much of her competition.
Her QOTR:NBO battle with O'fficial was awarded "Best Female Battle of the Year" by PG Bloggers Battle Rap Awards. She writes for the Boss Bitches, an all-gay female group, and is very open and aggressive about her sexuality in her raps.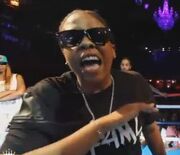 Opponent
League/Event
Date
E-Hart
Queen of the Ring/No Holds Barred 2
September 2015
Bonnie Godiva
Queen of the Ring/Panic Room 3
May 2015
Malato Black
R.B.E.
April 2015
Joe Cutter
Infamouz Battles
March

2015

Ah Di Boom
Deep Dellum & 858 Present: Doomsday
October 2014
Tori Doe
Queen of the Ring/#NoHoldsBarred
June 2014
Lotta Zay
Black Ice Cartel/The Eulogy
May 2014
O'fficial
QOTR:No Backing Out
March 2014
Star Smilez
QOTR
June 2013
Precyse
QOTR

March 2013

Ms. Miami
QOTR
January 2013
Jai Smoove
QOTR
November 2012
Gucci
QOTR
September 2012
Ad blocker interference detected!
Wikia is a free-to-use site that makes money from advertising. We have a modified experience for viewers using ad blockers

Wikia is not accessible if you've made further modifications. Remove the custom ad blocker rule(s) and the page will load as expected.