Fight Klub is one of the earliest battlerap leagues and was the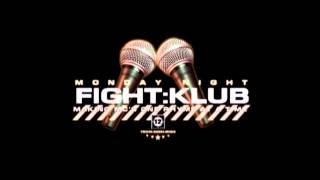 only league that aired on TV. It aired on MTV2 sometime in 2006. It is hosted by international P. A lot of the original rappers on there are now legendary in the battle rap game such as
Serius Jones
,
Murda Mook
,
Jin
, and
Hollow Da Don
The battles are in a tournament style elimination. They do multiple rounds of 60 secs which ends by International P shouting "SIXTY, SIXTAAYYY HOLD IT DOWN YALL." The battles are judged by some people from the industry and they can request a bonus sudden death round. The champion of the tournament gets $10,000.
Ad blocker interference detected!
Wikia is a free-to-use site that makes money from advertising. We have a modified experience for viewers using ad blockers

Wikia is not accessible if you've made further modifications. Remove the custom ad blocker rule(s) and the page will load as expected.