Hitman Holla
Real Name
Gerald Fulton
Origin
Hazelwood, MO
Rap Group
none
Leagues
SMACK/URL, Battle America, Fight Klub
Motto
"Ball Game," "Yett Yett"
Hitman Holla was JJ FROM GOOD TIMES and a college athlete star that started battle rapping. He ends every round with either "Ball game", "yett yett", or both. He claims to be a blood. Hitman's style is notable for his agressive delivery, and uses of techniques such as remixing his bars.
On July 28, 2013 Hitman tweeted that he has been banned from URL. He claimed that it was "kuz I wanted my battle to drop sooner" referring to his
Conceited
battle, but it was probably because he threatened to knock Norbes (a URL staff member) the fuck out.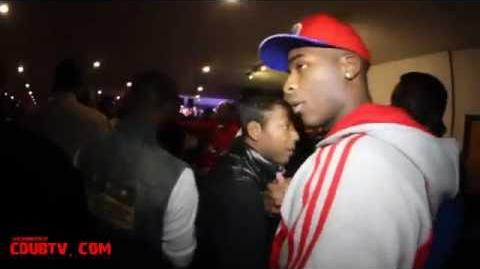 | Opponent | Date | League |
| --- | --- | --- |
| Tsu Surf | Sep 28, 2014 | URL:SM4 (2-1 Holla) |
| Charlie Clips | Apr 21, 2014 | Go-Rilla Warfare |
| O-Red | Jan 26,2014 | UW: High Stakes |
| T-Rex | Dec, 2013 | St Louis |
| Conceited | June 23, 2013 | URL:NOME3 |
| Math Hoffa | Feb 24, 2013 | KING JUCE |
| John John Da Don | Aug 19, 2012 | SMACK/URL |
| Aye Verb | Mar 21, 2012 | SMACK/URL |
| Goodz | Dec 18, 2011 | Battle America |
| Hollow Da Don | Aug 26, 2011 | SMACK/URL |
| Arsonal | Dec 25, 2010 | SMACK/URL |
| Remy D | | Fight Klub |
Albums/Mixtapes
Edit