Krissy Yamagucci
Real Name
Unknown
Origin
Harlem, NY
Rap Group
Unknown
Leagues
Queen of the Ring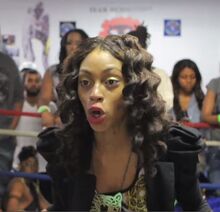 Krissy Yamagucci's fast-paced and complex bars, coupled with her unusual delivery style and bougie, ultra-feminine presentation immediately gathered her hype and attention when she emerged in 2012 (circa the emergence of Tori Doe, leading to lots of comparisons drawn between the two Harlem girls). After a string of early victories and impressive performances, Krissy shot to main event status, where she was supposed to battle Don Ladyii. However, some time in jail and a subsequent pregnancy led to Krissy dropping out of the battle/and out of Queen of the Ring for the next two years.
Post-pregnancy, she returned to battling at the same time as rival Tori Doe. to a much-hyped battle at Hell Up In Harlem. Despite a loss, Krissy's name still gets tossed around often (with C3 even telling Tori at #NHB at Yamagucci would have won had she just "written more", or in O'fficial's Quiet Room battle with Daylyt). In winter of 2014, Yamagucci performed alongside C3 and Precyse at a QOTR live event. Shortly thereafter, her named was announced on the first QOTR card of 2015.
| Opponent | League/Event | Date |
| --- | --- | --- |
| Fendi | QOTR/Winter Wars | February 2014 |
| Tori Doe | Hell Up in Harlem | May 2014 |
| Ms. Murk | QOTR/Hunger Games | Sept 2012 |
| Royal Honey | QOTR | April 2012 |
| Precyse | QOTR/Sparring Session | March 2012 |
| Classy | QOTR/Sparring Session | March 2012 |
Ad blocker interference detected!
Wikia is a free-to-use site that makes money from advertising. We have a modified experience for viewers using ad blockers

Wikia is not accessible if you've made further modifications. Remove the custom ad blocker rule(s) and the page will load as expected.