Tori Doe
Real Name
Unknown
Origin
Harlem, NY
Rap Group
DOEnatiion ✌🏾
Leagues
QOTR
Motto
"...Is you mad or nah?"
Tori Doe is one of the youngest girls to ever compete seriously on Queen of the Ring. Her complex wordplay and high energy performance gained her instant recognition, and comparisons to Loaded Lux as well as fellow up-and-coming Harlem femcee battler, Krissy Yamagucci. She also gained fame for her aggressive behavior towards audiences. Her 2-on-2 battle with Phara Funeral, Shooney da Rapper, and Don Ladyii remains the most watched QOTR battle on YouTube.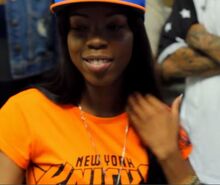 After a now-infamous battle with 40 B.A.R.R.S., where 40 relentlessly attacked Tori for tweeting about her abortion (shortly before both Shooney and Phara brought harsh personals against her in her 2-on-2 battle), Tori disappeared from the QOTR battle rap scene for two years, but re-emerged in spring 2014, and returned to QOTR when she battled C3 in a battle at QOTR's #NoHoldsBarred event (despite Debo, "the King of Queen of Ring," still having beef with her.)
Opponent
League/Event
Date
Couture
QOTR
Feb 2016
C3
QOTR/#NoHoldsBarred
June 2014
Krissy Yamagucci
Hell Up in Harlem

June 2014

Morawsha 
BBL
April 2014
40 B.A.R.R.S.
QOTR
October 2012
Phara Funeral & Shooney Da Rapper

(a 2-on-2 battle with Don Ladyii) 

QOTR/Watch The Throne
March 2012
Royal Honey
QOTR
December 2011
Ash Cash
QOTR
September 2011
MIZ MEL
QOTR
June 2011
Ad blocker interference detected!
Wikia is a free-to-use site that makes money from advertising. We have a modified experience for viewers using ad blockers

Wikia is not accessible if you've made further modifications. Remove the custom ad blocker rule(s) and the page will load as expected.